Carlon® E943H Terminal Adapter, 1-1/2 in, Male, PVC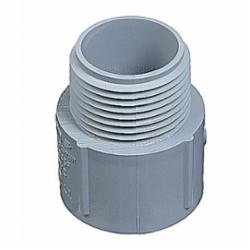 Carlon products set the standard for non-metallic indoor and outdoor boxes, conduit bodies and fittings enclosures and more. These premium products continue to supply the industry with innovative ideas, easier upgrades and a long, service-free product life.
All sizes of rigid non-metallic conduit fittings are compatible with ENT when using ENT cement.
All sizes of rigid non-metallic conduit fittings are compatible with ENT when using ENT cement
Rigid non-metallic conduit fittings are recommended for use with Carlon® 1-1/4 to 2 in Flex-Plus® blue ENT
It features male threads on one end and socket end on the other
0.802 in L thread
Non-Metallic