Carlon® E942G Conduit Adapter, 1-1/4 in, Female, PVC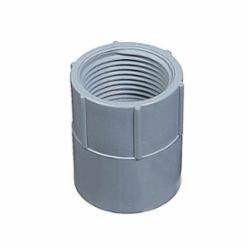 Carlon products set the standard for non-metallic indoor and outdoor boxes, conduit bodies and fittings enclosures and more. These premium products continue to supply the industry with innovative ideas, easier upgrades and a long, service-free product life.
For adapting non-metallic conduits to threaded fittings, metallic systems.
Female threads on one end, socket end on the other.
Female threads on one end, socket end on the other
It features corrosion-resistant PVC construction for more durability
7/8 in L thread
0.15 in THK wall