Bridgeport® 280-DC Conduit Combination Coupling, 1/2 to 3/8 in, For Use With EMT, FLEX Conduit, Die Cast Zinc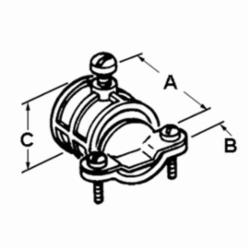 Bridgeports fittings are engineered to perform better than other fittings getting the job donefast and doneright. Its the inherent functional advantages and consistency of our product along with its legendary quality and service that make our fittings the right choice.
Used to join 1/2" EMT and up to two 14/2 and 12/2 Romex, Non-Metallic Cables. Two screw strap type for cable and a set screw type for EMT.
Furnished with 2-way Phillips/Slotted Head Screw
Furnished with 2-way Phillips/slotted head screw
1/2 in EMT - 3/8 in Flex