Bridgeport® 243-DC Set Screw Conduit Coupling, 1-1/4 in, For Use With EMT Conduit, Die Cast Zinc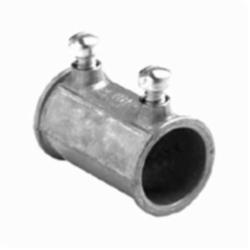 Think Orange: Zinc Advantage ?Error-free Performance ? meets same stringent UL tests as steel. Bridgeport zinc EMT fittings set the standard for EMT.
Used to join two lengths of EMT. 1/2" through 1 1/4" Concrete-tight, 1 1/2" thru 4" concrete-tight when taped. 2" thru 4" suitable for use with aluminum or steel EMT.