Bridgeport® 232-DC2 Conduit Connector, 1 in Trade, Die Cast Zinc, Ball Burnished/Mirror Smooth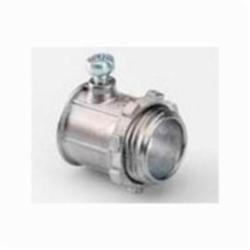 Think Orange: Zinc Advantage ?Error-free Performance ? meets same stringent UL tests as steel. Bridgeport zinc EMT fittings set the standard for EMT.
Set screw connector used to join EMT to box or enclosure. 1/2" thru 2" furnished with Tri-Drive slot/Phillips/Robertson head screws.
Furnished with Tri-Drive slot/Phillips/Robertson head screws
Furnished with tri-drive slot/Phillips/Robertson head screws