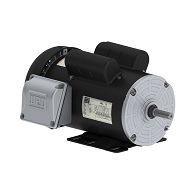 WEG is a single phase electric motor with 115/208-230 V, 1.5 hp, 13.2/7.30-6.60 amps and it meets NEMA mg-1 standards. It is used for pumps, compressors, fans, and machine tools.
Pumps;Compressors;Fans;Machine Tools
Good Thermal Performance and Easy Installation and Maintenance.
The W01 motor is the perfect option for applications that require robustness, low weight and high performance in a single product. The W01 Rolled Steel Single Phase motor has good thermal performance and easy installation and maintenance. Because of their high starting torque, they are particularly well-suited for heavy starting loads.
-Fractional Motors