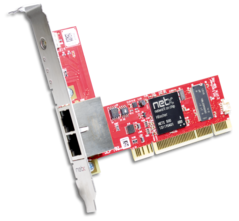 PC card for communication, with real-time ethernet protocol and has unique slot-number assignment via rotary switch.
Universal card for all Real-Time Ethernet protocols;Same application interface for all protocols and formats;Easy integration thanks to wide range of device drivers;Data access via Dual-Port-Memory or Direct Memory Access;Unique slot-number assignment via rotary switch
The cifX PC card family offers the user a unified standard supporting all Real-Time Ethernet and field bus systems for PC-based automation.The entire protocol stack is processed on the PC card. The process data exchange with the host is executed via Dual-Port-Memory or DMA (Direct Memory Access). Thanks to the uniform Hilscher platform strategy, all PC cards use the same drivers and tools, irrespective of protocol and card format. Communication protocols can be changed easily by loading the appropriate firmware. A rotary switch allows a simple and reliable slot assignment of the PCI and PCI Express card types. Moreover, special types are available, e.g. with integrated NVRAM, 2-channel cards or detached network interface.A complete software package is always included within the scope of delivery. This package consists of an FDT-based configuration tool (IEC standard) for all products and networks, loadable firmware, documentation, and a driver tool kit.Due to the Hilscher network controller netX, a 10-years delivery guarantee is granted.
-Universal card for all Real-Time Ethernet protocols
-Same application interface for all protocols and formats
-Easy integration thanks to wide range of device drivers
-Data access via Dual-Port-Memory or Direct Memory Access
-Unique slot-number assignment via rotary switch