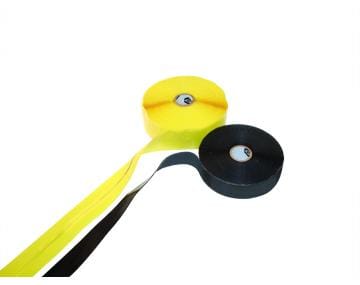 Vulko-Wrap yellow and black insulating tape, 40 mils (thickness) x 1 in (width) x 36 ft (length).
Vulko-Wrap® is TPC's popular self-vulcanizing insulated wrap. Made of a specially compounded, synthetic silicone elastomer, this tape is resistant to oil, water, ozone and many chemicals. It has a high dielectric strength and can be used on all electrical connections. It sticks to itself without sticky residue and fully bonds in 24 hours yet remains pliable in the application. It remains effective in temperatures ranging from -60°F to +400°F.
-REINFORCED WITH GLASS YARN BRAID — Reinforcing braid embedded in the center of material provides enhanced mechanical strength while still allowing the product to cover irregular shapes.
-HIGH DIELECTRIC STRENGTH — Can be used for all electrical connections.
-VULCANIZES IMMEDIATELY — Requires no heat - becomes fully bonded in 24 hours at room temperature. Remains pliable over time.
-NO ADHESIVES / ADHERES ONLY TO ITSELF — Easy to remove - leaves no residue. Covered fittings are immediately reusable.
-AVAILABLE IN 40 MIL THICKNESS — Extra thick design allows wrapping over sharp and irregular surfaces without tearing or puncturing