Bogen® UTI312 Paging Control Module, 120 VAC, 0.75 A
Intercom & Paging Control Modules
Bogen®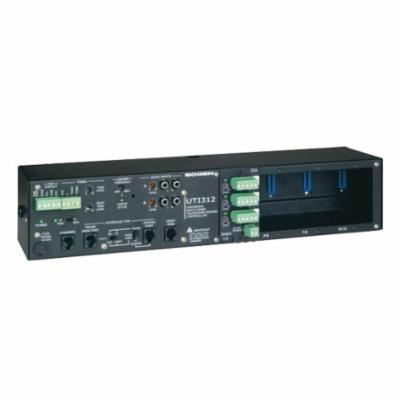 Amperage Rating:

0.75 A

Catalog Number:

UTI312

Country of Origin:

CN

Dimensions:

3-1/2 in H x 19 in W x 4-7/8 in D

Gross Weight Per Pack:

8.00 lb

Reponse Time:

10 to 990 s

Specifications:

0 to 104 deg F Temperature

Standards:

UL Listed, FCC Part 68 Registered, FCC Part 15 Compliant

UNSPSC:

43223212

Voltage Rating:

120 VAC

Stock Status:

NONSTOCK

Brand:

Bogen®

Manufacturer:

Bogen Communications, Inc.
The UTI312 zone paging controller provides multi-zone paging for one-way applications such as self-amplified speaker systems, with each output capable of providing audio for up to 150 self-amplified speakers. The UTI312 is compatible with all standard analog port types. Each UTI312 comes with a pre-installed ZX3 module for three zones of paging and is expandable up to 12 zones. The UTI312 offers up to 24 programmable paging zone groups as well as all-call, auto select, override, night ring, two tone triggers and code calling zone groups. The UTI312 also offers flexible dialing.
Zone paging controller provides multi-zone paging for one-way applications such as self-amplified speaker systems, with each output capable of providing audio for up to 150 self-amplified speakers; Compatible with all standard analog port types; Each UTI312 comes with a pre-installed ZX3 module for three zones of paging and is expandable up to 12 zones; Offers up to 24 programmable paging zone groups as well as all-call, auto select, override, night ring, two tone triggers, and code calling zone groups, Also offers flexible dialing; Telephone interfaces: loop start trunk, ground start trunk, station access (analog ring-up), page port contact closure activation, page port voice activation; Simple 2-switch interface setup; Programmable activation of AUX contacts; C-form contact per zone; 24 VDC, 1 AMP internal power supply; Adjustable output limiter with threshold
Expandable from 3 up to 12 zones using ZX3 modules
Up to 24 programmable paging zone groups
Simple 2-switch interface setup
24 VDC, 1 A internal power supply
Provides audio drive for up to 150 1-way self-amplified speakers per zone
Two background music busses, selectable per zone
Two high impedance transformer isolated background music inputs
Wall or rack mountable
Auto select paging zone group
2 to 5 digit dialing with flexible dialing plan for zone and zone group numbers
Non-volatile memory for setup data
Setup tone to assist in volume setting
Pluggable terminal strips
Microcontroller-based operation
DTMF block to help suppress DTMF tones over paging system
Programmable timers control page duration
0 to 85% non-precipitating humidity
600 Ohm input, 8 Ohm output impedance
-10 dBm input/output level