SolaHD SDN2024100C SDN-C Compact Power Supply, 115/230 VAC Input, 24 VDC Output, 480 W, 6/3 A, DIN Rail Mount
DC Power Supplies
488853
MFG #: SDN2024100C
SolaHD™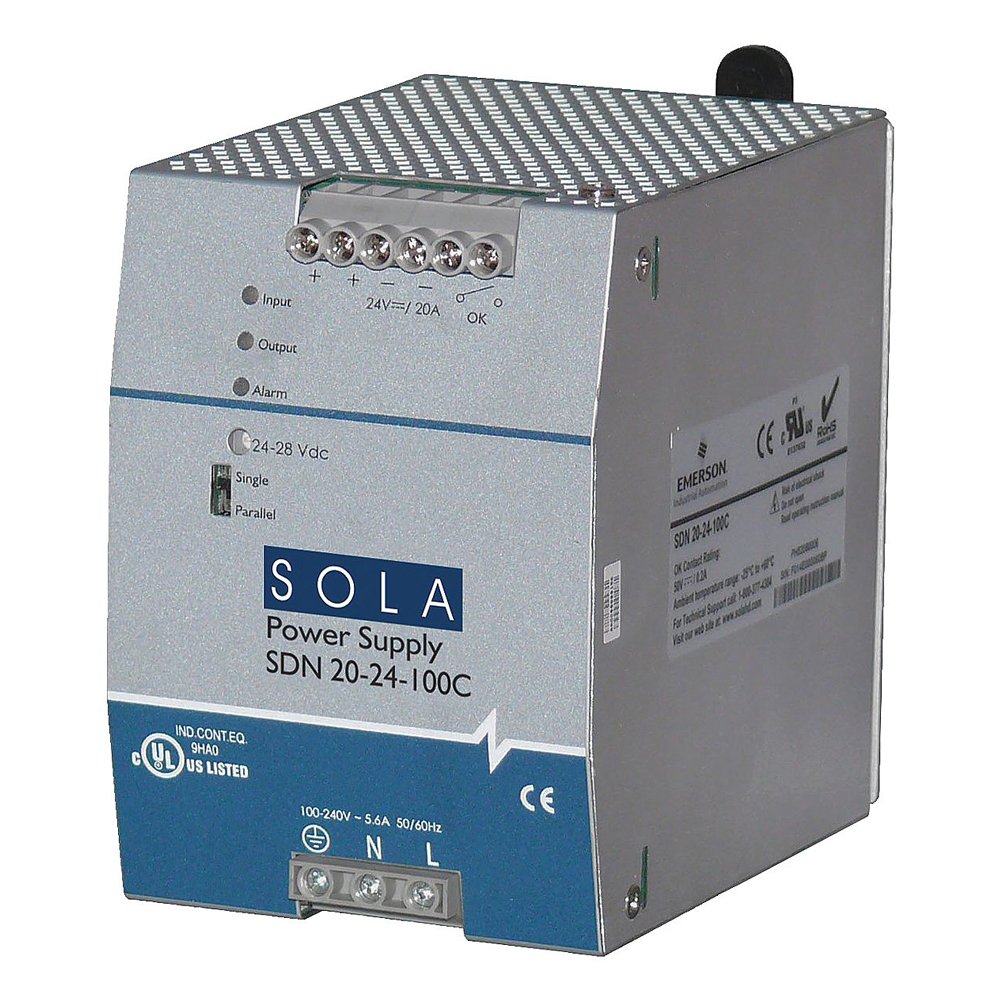 Application:

For use in industrial and medical applications requiring standard footprint size and very high reliability

ARRA Compliant:

N

Buy American Compliant:

N

Cable Size:

16 - 10 AWG Solid

Case Material:

Metal

Catalog Number:

SDN2024100C

Country of Origin:

PH

Currency:

USD

Depth:

9 in

Environmental Conditions:

90 RH Humidity Range

EU RoHS Indicator:

Y

Frequency Rating:

47-63 Hz

Fuse Rating:

Internally Fused

Gross Weight Per Pack:

3.70 lb

Gross Weight per Pack Metric:

1.68

Gross Weight UOM Metric:

kg

Height:

4.50 in

Height [Metric]:

11.4300 cm

Length:

7.70 in

Length [Metric]:

19.5580 cm

Material:

Metal

Mounting:

DIN Rail

Phase:

1

Series:

SDN-C

Standard:

Non-Medical: EN60950, UL UL60950 E132002, CSA 22.2-234 Level 3 LR53982C, CB Certificate and report; CE Mark (LVD), Medical: UL 2601; CSA 22.2 No. 601.1; EN 60601-18

Standards:

RoHS CompliantCB CertifiedCE CertifiedCSA 22.2-234 Level 3 File No. LR53982CCSA 22.2 No. 601.1EN 60601-18UL 2601 File No. EN60950UL 60950 File No. E132002

Type:

Compact

UNSPSC:

39121004

Voltage Rating:

264//300 VAC//VDC

Wattage:

38 W

Width:

7.40 in

Width [Metric]:

18.7960 cm

Stock Status:

NORMALLY STOCKED

Brand:

SolaHD™

Manufacturer:

Emerson

Amperage Rating:

6/3 A

Input Voltage:

115/230 VAC

Output Voltage:

24 VDC

Power Rating:

480 W

Mounting Type:

DIN Rail
The SDN-C DIN rail power supplies are the next generation of the popular SDN series. These models combine high effi ciency and compact size with new visual diagnostic LEDs to offer the most performance available from SolaHD. Essential industrial features such as Sag Immunity, Power Factor Correction, and universal voltage input have been retained in this series. Wide temperature operating range and parallel operation capability make the new SDN-C units suitable to a variety of industrial applications.
For use in industrial and medical applications requiring standard footprint size and very high reliability
Industry standard footprints, Universal input, Full power to 50 DEG C, High demonstrated MTBF, Automatic overvoltage protection, Overload protection, Built-in EMI Filtering, Derated operation to 70 DEG C, +/-2%, regulation on main output, 250 VA and higher VA size enclosed.
Compact packaging to save space on the DIN rail via patented DIN rail mounting clip
Visual diagnostic LEDs for input and output status at a glance
High MTBF means high reliability and long life, higher efficiency saves energy and lowers amount of heat generated in panel
PowerBoost™ overload capability to start high inrush loads, active power factor correction
User adjustable output voltage accessible via front face
Large, rugged, accessible screw terminals
Fully tested and burned-in at factory
User Adjustable output voltage accessible via front face
Parallel capability standard
Large, rugged, accessible screw terminals
Industrial grade design
Fully tested and burned-in at factory
Highly efficient switching technology
Active power factor correction to better than 0.92
Screw terminal. 90 RH humidity range PCT
16 - 10 AWG, -25 to 60 deg C operating
92% efficiency
24 VDC at 20 A