Wiremold® 5410-WH Blank End Fitting, 1-25/32 x 5-15/32 in, For Use With 5400 Series Raceway, PVC, White
Raceway End Fittings
Wiremold®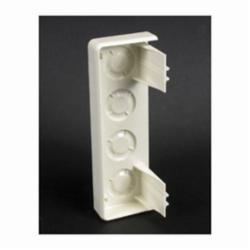 Application:

Commercial, Office, Residential

ARRA Compliant:

Y

Buy American Compliant:

Y

Catalog Number:

5410-WH

Country of Origin:

US

Currency:

USD

EU RoHS Indicator:

Y

Gross Volume Per Pack:

0.00

Gross Volume per Pack Metric:

0.02

Gross Volume UOM:

CI

Gross Volume UOM Metric:

cm3

Gross Weight Per Pack:

0.110 lb

Gross Weight per Pack Metric:

0.05

Gross Weight UOM Metric:

kg

Harmonization Tariff Schedule Code:

3926909990

Height:

0.10 in

Height [Metric]:

0.254 cm

Jacket Color:

White

Length:

0.10 in

Length [Metric]:

0.254 cm

Material Composition:

http://www.ideadigitalcontent.com/files/11311/ROH_Legrand_ROHS_statement.pdf

Material Composition Declaration:

http://www.ideadigitalcontent.com/files/11311/ROH_Legrand_ROHS_statement.pdf

Outside Diameter:

1 25/32"x5 15/32

Standard:

cULus Listed Raceway: File E90378 Guide RJTX. Complies with flammability requirements of UL-5A. Fittings: File E90377 Guide RJYT. Meets Article 388 of NEC. UL Listed for up to 600V. Meets Section 12-1600 of CEC.

Standards:

ARRA CompliantBuy American Act CompliantRoHS CompliantcULus E90378 Guide RJTXUL-5A, File No. E90377 Guide RJYTMeets Article 388 of NECUL ListedMeets Section 12-1600 of CEC

Sub Brand:

5419 Series

Type:

Cord & Cable Management

UNSPSC:

39131709

UPC 11:

78677651916

UPC 12:

78677651916

Voltage Rating:

600 V

Width:

0.10 in

Width [Metric]:

0.254 cm

Stock Status:

NONSTOCK

Brand:

Wiremold®

Manufacturer:

Legrand
Wiremold products work together seamlessly to save installation time, while providing enhanced flexibility and productivity in environments ranging from residential dwellings and educational institutions to meeting rooms and healthcare facilities.
Commercial, Office, Residential
Large cable capacity in a low profile design. Twin Snap cover. Corner drop feed. Device mounting in-line, offset or both. Pre-punched mounting holes.
600 V voltage rating
Multiple channel capacity
Large cable capacity in a low profile design
Twin snap cover
Corner drop feed
Device mounting in-line, offset or both
Pre-punched mounting holes
Closes off end runs of 5400 Series Raceway
Has four 1/2 in trade size KOs for end feed
Device (inline, offset) mounting