Wiremold® V5753 Extra Deep Alarm Device Box, 4-11/16 in L x 4-11/16 in W x 2-3/4 in H, Steel, Ivory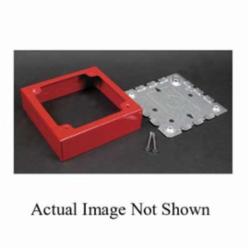 Wiremold® products work together seamlessly to save installation time, while providing enhanced flexibility and productivity in environments ranging from residential dwellings and educational institutions to meeting rooms and healthcare facilities.
Commercial, Office, Residential
Low-profile, unobtrusive appearance. Blends with any decor or setting. ScuffCoat finish, tough, durable, scratch-resistant can be overpainted with latex paint. Fittings have removable covers which allow easy access to wiring for changes and additions.
Low-profile, unobtrusive appearance
Blends with any decor or setting
ScuffCoat™ finish, tough, durable scratch-resistant finish which can be overpainted with latex paint
Fittings have removable covers which allow easy access to wiring for changes and additions