Wiremold® 880M3 OmniBox™ Fully Adjustable Shallow Floor Box, Stamped Steel, 126 cu-in, 3 Gangs, 22 Knockouts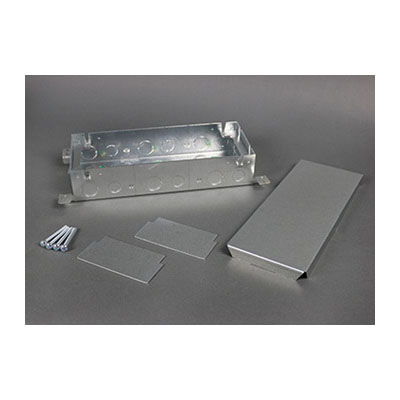 This floor box series provides an excellent activation solution for applications where single service is required in open space areas. The floor box is offered in a stamped steel construction, designed to be installed in above-grade concrete floor applications and to meet a wide range of market requirements. This floor box series has many applications, some of which are schools, financial institutions, and commercial office buildings.
Available in one-, two-, and three-gang configurations. Removable dividers increase capacity. More configurations to support multiservice applications. Triple service boxes. Accommodates power, communication and/or audio/video devices which reduces the need for multiple boxes.
TopGuard™ protection
Lower installed cost
Can remove divider for greater capacity
Aesthetically pleasing assemblies are interchangeable for both cast-iron and stamped steel
Datacom connectivity options
1-3/4 in adjustment before pour
1/2 in adjustment after pour
Removable dividers increase capacity
Accommodates power, communication and/or audio video devices which reduces the need for multiple boxes
More configurations to support multiservice applications
Assembled construction