SolaHD SDN-C Compact Power Supply, 115/230 VAC Input, 24 VDC Output, 120 W, 1.65/0.55 A, DIN Rail Mount
Power Supply Units
401141
MFG #: SDN5-24-100C
SolaHD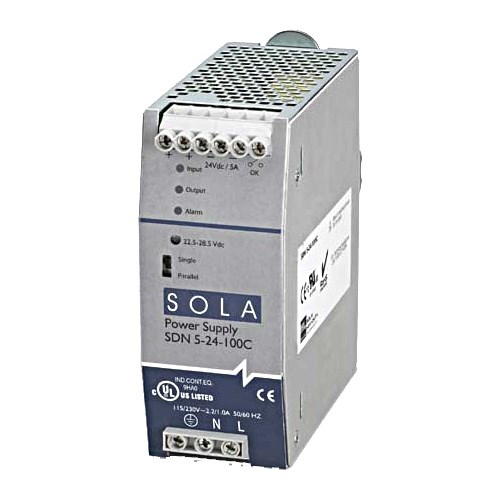 The SDN-C DIN rail power supplies are the next generation of the popular SDN series. These models combine high effi ciency and compact size with new visual diagnostic LEDs to offer the most performance available from SolaHD. Essential industrial features such as Sag Immunity, Power Factor Correction, and universal voltage input have been retained in this series. Wide temperature operating range and parallel operation capability make the new SDN-C units suitable to a variety of industrial applications.
For any situation where the available voltage must be changed to accommodate the voltage required by the specific electrical circuit or connected equipment
Compact packaging to save space on the DIN rail via patented DIN rail mounting clip
Visual diagnostic LEDs for input and output status at a glance
Large, rugged, accessible screw terminals
Fully tested and burned-in at factory
PowerBoost overload capability to start high inrush loads
Active Power Factor Correction
Patented DIN rail mounting clip
User Adjustable output voltage accessible via front face
Parallel capability standard
Large, rugged, accessible screw terminals
Industrial grade design
Fully tested and burned-in at factory
Highly efficient switching technology
Active power factor correction to better than 0.92
Screw terminal. 90 RH humidity range PCT
16 - 10 AWG, -25 to 60 deg C operating
88% efficiency
24 VDC at 5 A
UL-3R ventilated outdoor enclosures when used with optional weather shields (order separately), UL class 220 DEG C/428 DEG F insulation system, 150 DEG C/302 DEG F temperature rise under full load, Terminal board connections and spacious wiring compartment, Panel enclosure design with wiring diagram on inside front cover reduces labor time, High efficiency for low cost operation, Compliant with NEMA TP-1 standards, Single and three phase models.