Markal® 096874 High Visibility Liquid Paint Marker, 1/16 in Valve Actuated, Fine Tip, Red
Paint Markers
PDW~7163080
MFG #: 096874
Markal®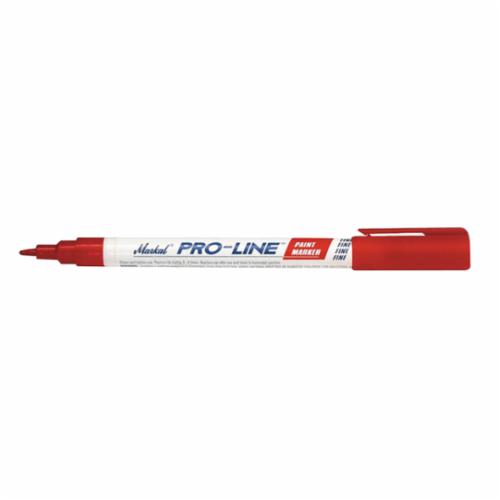 The PRO-LINE Fine and Micro liquid paint markers combine the durability of paint with the marking precision of fine, valve-actuated tips. Whether marking on small surface areas or where easily-readable marks are required, the small tip sizes provide highly-visible, sharp lines for greater mark identification.
Features

Marking range: -50 °s;F to 150 °s;F (-46 °s;C to 66 °s;C)

Pro-Line®

Value-actuated tip is available in Fine (1/16") and Micro (1/32") tip sizes for ultimate precision.
Xylene-free for less odor.

Pro-Max®

Fast-drying, bold, long-lasting opaque paint is xylene-free for less odor.
Valve-actuated tip releases paint on demand for smooth, continuous use.
Durable chisel tip makes 3 different size marks (3/16", 5/16", 9/16").
"
Valve actuated tip is available in fine (1/16 in) and micro (1/32 in) tip sizes for ultimate precise, permanent paint marking
High strength, light weight barrel for industrial use
Ideal for metal, also suitable for wood, glass, plastic, rubber and more
Self-storing cap with integrated pocket clip
Ergonomic design for comfort table extended use
Steel and iron cloth and fabric (textiles) plastic glass pipes and tubes surface use