Lutron® FCJ-010 Wireless Fixture Control, 120 to 277 VAC, 0 to 10 VDC Ballast, Surface Mount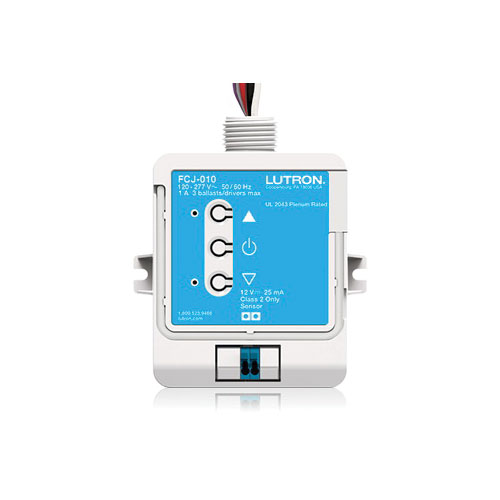 Transform any fixture into a wireless, intelligent luminaries with the PowPak wireless fixture control and fixture sensor for energy TriPak. Each individual fixture supports occupancy sensing, daylight harvesting and personal control for maximum energy savings.
Connects to a occupancy/daylight fixture sensor via two wires, wires are interchangeable to eliminate miswiring
Utilizes Lutron® reliable clear Connect® RF technology to receive input from up to 10 Pico® wireless controls, 10 radio Powr Savr occupancy/vacancy sensors and 1 radio Powr Savr™ daylight sensor
Mounts through a knockout to a fixture or junction box or can also be mounted inside of a standard 4 x 4 in junction box
The PowPak wireless fixture control for 0 to 10 VAC control for a single 0 to 10 VAC led or fluorescent fixture
It can control up to 6 mA of 0 to 10 VAC (maximum of 3 ballasts) and automatically adapts to both sink and source drivers and ballasts
0 to 10 VAC control link on FC-010 automatically sources or sinks to third-party fixtures
Designed to give a linear response to changes in viewed light level
2 wire connection between sensor and control module, the wires are interchangeable to eliminate miswiring
Radio frequency (RF) device that controls either the Lutron 0-10 VDC electronic fluorescent ballasts and LED drivers. This is based on RF input from Pico wireless controls, Radio Powr Savr wireless sensors, or wired inputs from the PowPak fixture sensor. The control module mounts to a fixture or a U.S.-style junction box. Communication with RF input devices is accomplished using Lutron Clear Connect RF Technology.