Leviton® Lev-Lok® M1223-I 3-Way Toggle Switch, 120/277 VAC, 20 A, 1/2 hp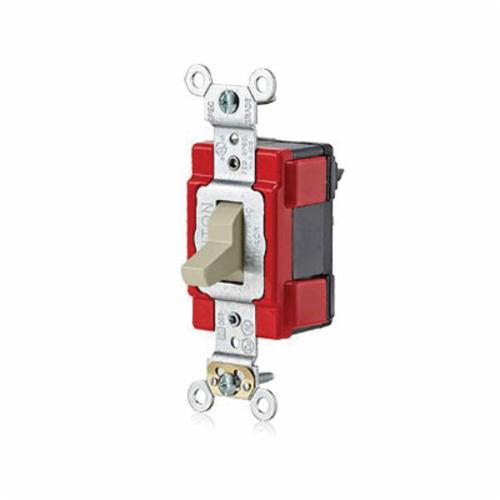 The revolutionary Lev-Lok modular wiring device platform has been expanded to include 3-Way Toggle Switches. Designed to correspond closely to the existing Leviton Lev-Lok toggle switch line in aesthetics, function and performance, the Lev-Lok 3-way switches employ a simple twist and lock wiring module. This ensures a safe, reliable connection while at the same time providing fast, easy installation. The unique wiring modules for these switches are 20A-347V AC Max. rated and are keyed so they cannot be installed incorrectly; the wiring module is quickly and securely engaged with a simple clockwise rotation.
Commercial and Residential Applications
1 hp at 120 VAC, 2 hp at 240 VAC power rating
Galvanized steel strap
Polycarbonate toggle, PBT base, nylon cover
1 hp at 120 VAC, 2 hp at 240 VAC
UL 94-V2 Flammability
Lev-lok Switch.