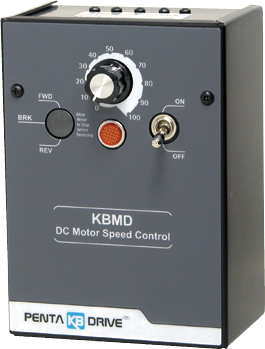 KB standard off-the-shelf DC drive provide variable speed for DC motors, rated at 115/230 VAC with heat sink.
The Model KBMD-240D, also called Multi-Drive ™, is rated for 1/100 to 2 horsepower motors and is an SCR drive housed in a NEMA 1 enclosure.It utilizes the KBMM speed control for its electronics. It handles both 115 and 208/230 Volt AC line inputs by setting the built-in Dual Voltage Switch.
-Plug-in Horsepower Resistor® Allows a single model to be used on a wide range of motors.
- Dual Voltage Switch. Used to select AC line voltage operation of 115 or 230V.
- Built-in AC Line Fuse
- MOV Transient Protection (20 JOULE)
- Trimpots:MIN, MAX, IR, CL, ACCEL, DECEL