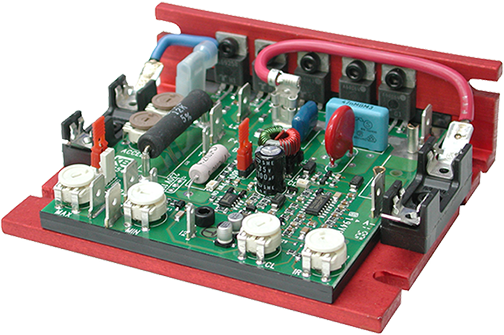 DC drive chassis. Rated at input voltage115 VAC. Torque rating 0 to 200 PCT with torque rating 0 to 200 PCT.
Back Gauges;Door Openers;Feeders;Indexers;Robotics;Tapping Machines;Pumps;Screen Presses;Conveyors
Plug-In Horsepower Resistor® Allows A Single Model To Be Used On A Wide Range Of Motors
The KBPB Series of DC Drives consist of two models rated for 1/100 to 3 horsepower motors. The APRM® eliminates contact arcing by allowing armature switching to take place only when voltage levels are near zero. Built-in terminal blocks and its small size make the control ideal for installation where space is at a premium.
-Plug-in Horsepower Resistor®
-Built-in AC Line Fuse (included), Armature Fuse (distributor supplied)
-Trimpots: MIN, MAX, IR, CL, ACCEL, DECEL and Aux. Speed
-Auto Inhibit®, Inhibit ™ and Enable
-MOV Transient Protection
-CL LED Indicator
-Voltage Following
-Tachometer or Armature Feedback