Louisville® FS1512 Type IA Standard Step Ladder, 12 ft H Ladder, 300 lb Load, 11 Steps, Fiberglass
Ladders
Louisville Ladder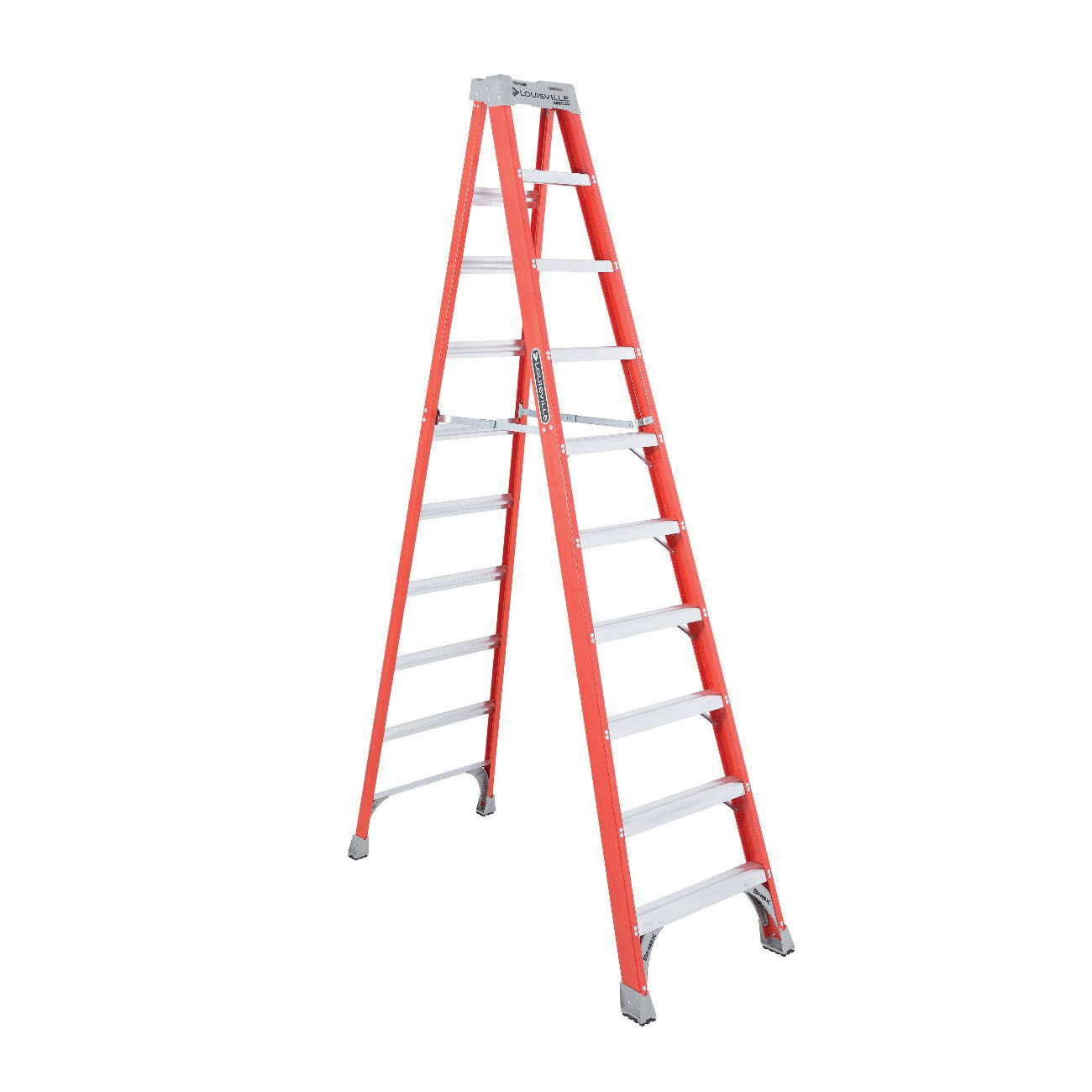 Base Spread:

76-1/8 in

Bottom Width:

31-5/8 in

Catalog Number:

FS1512

Country of Origin:

USA

Gross Weight Per Pack:

47.00 lb

Ladder Height:

12 ft

Load Capacity:

300 lb

Material:

Fiberglass

Number Of Steps:

11

Standards:

OSHA Approved

Type:

Type IA Standard

UNSPSC:

30191501

Stock Status:

NONSTOCK

Brand:

Louisville Ladder

Manufacturer:

Louisville Ladder, Inc.
This Louisville 12 foot non-conductive fiberglass step ladder has a load capacity of 300lbs, rated ANSI Type IA. This ladder is equipped with the new and innovative Raptor Top with magnet and multiple tool slots, SHOX impact absorption system, new Raptor boots with non-marring bonded tread mechanically fastened to the upper boot to create a secure slip-resistant footing, inside spreader braces, wide back braces, and double-rivet step construction. The Louisville FS1512 step ladder meets or exceeds the safety standards set by ANSI, CSA, and OSHA.
Features: Protop - Versatile And Durable; Da Boot For Slip Resistant Footing; Inside Spreader Braces; Double-Rivet Step Construction; Wide Back Braces; A Multifunctional Top Designed To Increase Productivity; Hardware TRAY: Recessed Tray Provides Area To Secure Hardware From Falling Off The Top; Paint Bucket Holder: Convenient Recessed Tray Holds Quarter/Half/Full Gallon Paint Buckets; Drill Slots: Two Separate Drill Slots Make For A Variety Of Convenient Options Especially When Also Using The Paint Bucket Holder; Screwdrivers/Pliers: Featuring Plenty Of Slots, Protop Will Hold All The Tools Needed; Curved Front: Curved Surface On Front Of Top Helps Provide Leg Comfort; Pipe & 2x4 Holder: Groove Across Top Keeps Pipes And 2x4s From Getting Away From You; Magnet TRAY: Easily Secures Metallic Hardware And Tools. Not Available On Type II Ladders; Series: FS1500; Act
SHOX impact absorption system
ProTop versatile and durable
DaBoot double riveted step construction
3 in step depth
Inside spreader braces
Wide back braces
A multifunctional top designed to increase productivity
Hardware tray recessed tray provides area to secure hardware from falling off the top
Paint bucket holder convenient recessed tray holds quarter/half/full gallon paint buckets
Drill slots two separate drill slots make for a variety of convenient options especially when also using the paint bucket holder
Screwdrivers/pliers featuring plenty of slots, protop will hold all the tools needed
Curved front curved surface on front of top helps provide leg comfort
Pipe & 2x4 holder groove across top keeps pipes and 2x4s from getting away from you
Magnet tray easily secures metallic hardware and tools
3 in rung size
15.9 cu-ft