Panduit® SE75PS-CR0 PAN-WRAP BRAIDED SLEEVING, .75" DIA.
Expandable Braided Sleeving
Panduit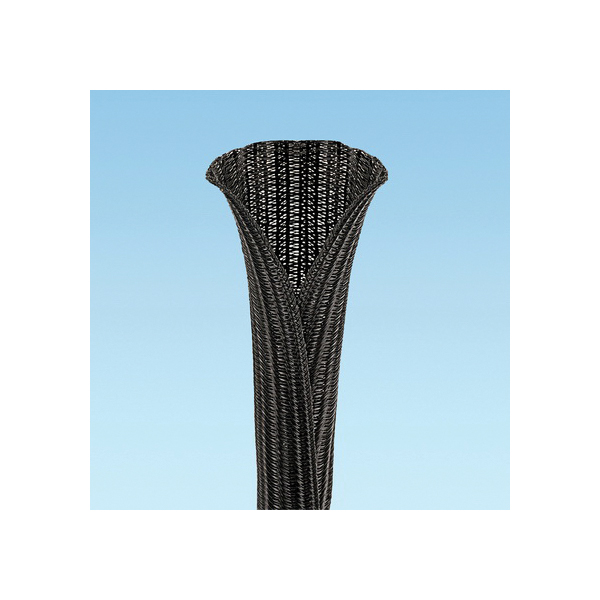 Country of Origin:

MEX

Standards/Approvals:

CSA Certified, UL E116868, RoHS Compliant

Stock Status:

Scheduled Items

Sub Brand:

Pan-Wrap™

UOM:

lb

Weight:

3.150

Brand Name:

Panduit

Manufacturer:

Panduit Corporation

Type:

Pan-Wrap Braided Sleeving

Application:

(1) Suited for the Challenging Applications Found in the Transportation and Marine Industries due to its Open Weave Design, Lack of Halogens, and Exceptional Flammability Performance. (2) Installation Tool Reduces Installation Time by Allowing Easy Loadin

Standard:

E116868

Color:

Black

Nominal Size:

0.75 in

Diameter:

0.63 - 0.75 in

length:

100 ft

Temperature rating:

-94 to 257 ° F

Material:

Polyethylene Terephthalate
Braided sleeving shall be designed of thermoplastic polyester halogen-free material for applications that require protection and bundling of wires, cables, hoses, or tubing; especially after cable is routed and terminated and possible re-entry is required (maintenance and repair). Braided sleeving shall be rated for use up to 257 deg F and provides exceptional flammability performance.
For the challenging applications found in the transportation and marine industries due to its open weave design, lack of halogens and exceptional flammability performance
Split wrap design - allows for installation after cable routing is complete, breakouts of single and multiple cables, and addition or removal of cables post-installation
25% edge overlap ensures complete coverage without opening
Open weave fabrication - highly flexible, does not trap heat or humidity; quiet in high vibration applications
Patented installation tool - allows easy loading of maximum bundle diameters to speed installation
Complicated cable assemblies as well as dynamic cabling environments also benefit greatly from the split wrap design
Pan-Wrap™ installation tool reduces installation time by allowing easy loading of maximum bundle diameters, especially effective on long runs
100 ft/reel